It's That Time: Planning Seasonal In-Store Signage
---
When the weather is chilly, it's hard to think about spring and summer signage. Vice versa, planning for the winter holidays seems counterintuitive in the dog days of summer. But that is exactly the time to be doing your retail seasonal planning.
74% of all U.S. retail sales will be done in physical stores by 2024, according to some sources.1
While this should mean more foot traffic for brick-and-mortar shopping, there will also be increased competition for shoppers' attention. Which, in turn, means you need to prioritize retail signage and visual merchandising displays to turn heads, add value, and open wallets.
But in today's market, there is no shortage of reasons to get an early start on your seasonal in-store marketing campaigns and in-store promotion planning.
Look no further than the many supply chain issues plaguing headlines these days.
1. The Easy Way to Avoid Supply Chain Challenges

Just as you may experience supply shortages within your own industry, print materials can be difficult to source these
A simple way to mitigate this?
Lean on commercial print companies with deep relationships to access the stock and substrates your projects require.
Keep in mind that a partner with a larger footprint can transfer materials between regions. Tap your partners' expertise to make swaps when necessary. Have open and honest conversation about which materials are must haves and which are "nice to have."
2. What Type of Seasonal Store Signage Should You Consider?
The sky is practically the limit for in-store signage marketing!
The type of sign (and size) you ultimately choose will depend quite a bit on your budget, your overall goals and, as we just mentioned, materials available. Being flexible is key to getting the retail signs you want that also aligns with your budget.
Using a combination of strategies can help reinforce your brand and messaging to drive more purchases:
Storefronts
Outdoor signage
In-store displays (standalone or on shelving)
Window clings
Window displays
Banners
Suspended signs
Permanent displays with seasonal updates
Dimensional displays that could be considered temporary art installations
Displays with QR codes and augmented reality
Sensory displays that incorporate sound, scent, touch, interaction, etc.
Digital signage
The list of possibilities goes on and on!
So, what factors should you consider? Start with what you know. Namely, your customers.
3. Let the Customer Journey Drive Signage Planning
Think about who your customers are and their journey in your store. This likely has evolved over the last few years, with the pandemic shifting how and when people shop.
Consider how buy online, pickup in store (BOPIS) has changed customer behavior or where your in-store signage can integrate with your website or app experience.
It's also critical to consider that your store needs to appeal to up to five different generations. Those journeys differ significantly as well – what attracts your tween buyers might repel your seniors.
The goal of your seasonal displays is to disrupt those journeys and promote sales.

4. Consider Spatial Limitations and Local Ordinances
Depending on your goals, store signage and visual merchandising displays must conform to the profile of your store or restaurant, as well as any brand guidelines and local ordinances. If you have multiple locations across several regions, you'll want to make sure each sign kit is customized to those specific locations.
For example, we've created suspended displays and banners at national grocers that required bracing and building infrastructure to ensure safety. Those requirements should be identified long before fabrication begins.
In another instance, one of our retail clients wanted a window installation that transformed a flat photoshop file of a superhero into a three-dimensional figure reaching through the wall. We had to know ahead of time that this type of structure would be approved by local municipalities and building landlords.
Once you've thought through these initial considerations, you can start brainstorming what will create an impact.
5. What Displays Will "Wow"?
How do you create graphics for signage or a display that disrupts customer flow in a positive way?
Too much flair and you've created an annoyance.
Too little and it won't be noticed.
You may want to take an inventory of past seasonal visual merchandising to see what has worked previously, consider design and industry trends, and leverage your print partner's knowledge of what has been delighting customers in other projects. With this in mind, think about what graphics will disrupt the customer journey and create a true "look at that!" moment.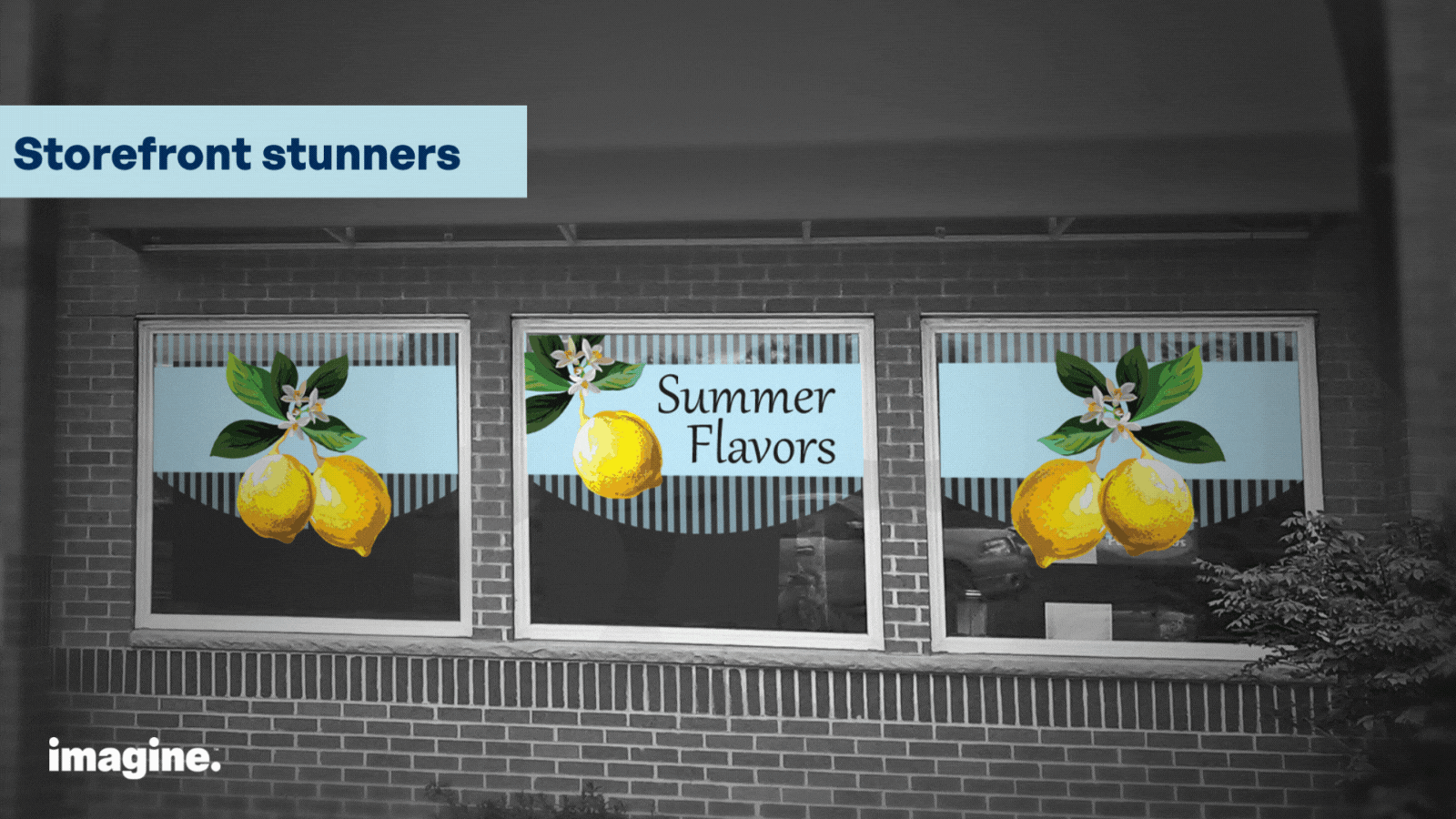 Some questions to ask include:
What worked well in the past?
What did customers talk about positively?
What signage or displays seemed to increase dwell time?
What didn't work or were barriers to sales?
What height is optimal to catch the customers' eyes?
Is there an opportunity for sound or movement or will it be drowned out by existing noise?
Are there any new consumer trends you want to tap into?
What products do you want to promote and how will their packaging impact your displays?
This goes for window displays as well as in-store. The goal is to increase foot traffic from outside and be disruptive enough to promote impulse purchases in-store.
For some stores, a 'wow' factor can be achieved with lights, motion, and hardware. For others, it is accomplished through nostalgia and classic displays. And, of course, the surprise of three-dimensional, suspension, or other unexpected displays can be incredibly effective.

Ask for Good, Better, and Best from Your Store Signage Vendor
That all sounds great, but what about the "b" word?
That's right—budget.
Virtually every single one of our clients is juggling tighter budgets for seasonal signs and in-store marketing. So, oftentimes, we will work with them on "good," "better," and "best" options with varying design elements and price points to help them determine the most impactful signage that fits their budget.
Invariably, brands will select aspects across those choices to create a truly customized option that fits all of their needs. By doing this, we partner with our customers to curate stunning designs and help them make informed decisions.
6. Make Sure You've Planned for Enough Lead Time
Just when you think you've got it all figured out, the world changes again—and potentially wreaks havoc on your project.
The key to avoiding disaster? Planning for a long lead time.
While we are also masters in making quick turn magic happen, we always advise our clients to be thinking ahead. Early is the new on time after all, right?
Beyond the supply chain constraints discussed earlier, providing ample lead time will allow for the display design team to match colors and finalized designs to your liking. And the larger the run, the longer the lead time needed to account for revisions, unexpected developments, and the like.
Your commercial print partner will give you an idea of what to expect for end design, fabrication, and delivery timelines.
Know Who Will Assemble Your Signs and Displays
Signage and display complexity may require that your vendor or a contractor handle installation. This is usually the case with large multi-dimensional displays and heavy, suspended signs.
For simpler displays, your team should be able to handle assembly with proper instruction.
We often conduct in-store tests to determine if signage should be shipped pre-assembled (which is often preferred) or if it has to be assembled in store. If it is the latter, our team creates unboxing videos with step-by-step instructions.
What is assembled must be disassembled. So, what do you do with signage after the season is over?
7. Set Aside Space for Seasonal Display Storage
Planning to reuse your stunning season signage? As you're considering spatial limitations, make sure to think through storage needs as well.
Even if your signage can be broken down into multiple pieces or folded into a smaller kit, you'll still need to designate space for storage. Our clients often use corrugated or stay flat boxes to store simple signs safely.
They key is to store signage in a space where the material won't warp or be impacted by gravity.
Obviously, some signage isn't meant to last season to season, but do share with your vendor how long you intend to use your displays so they can select materials that will stand the test of time. And if you do plan to discard your materials, work with your vendor to make them as sustainable as possible.